2020's Most Expensive Artwork Sold on Auction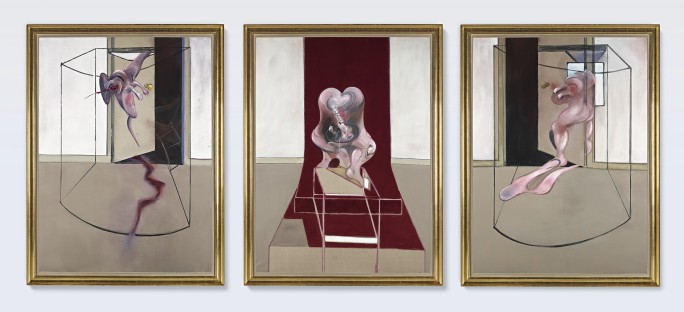 Last year's setbacks had little effect on the art world as a chilling Francis Bacon (1908 – 1992) triptych sold for $84.5 million in June.  This 1981 oil on canvas was considered "a steal" despite it being the most expensive artwork sold at auction in 2020.
The top auction houses expanded and tested an already hybrid auction market as eight-figure artworks sold via new methods such as Zoom, Livestream and telephone… in an unstable market economy. Bidding wars continued across three countries – Hong Kong, London, and New York until the British painter's trio of tragedy was sold over the phone.
This is the first time in seven years that one of Francis Bacon's works has been released on auction yet it didn't yield as high a price as previous years. In 2013 the Three Studies of Lucian Freud went for $142.4 million (at the time, the most expensive piece to be sold at auction).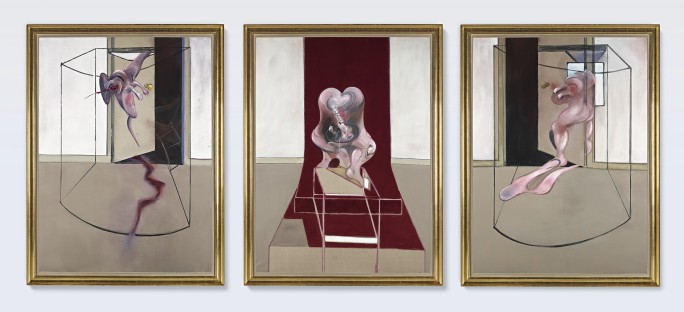 The third highest-selling Bacon work painted in 1981 – the Triptych Inspired by the Oresteia of Aeschylus, was signed, titled, dated and inscribed on the reverse of each panel – oil on canvas, in three parts. While these paintings are not Bacon's most expensive artwork, it is his most ambitious and important mythological expression and had never entered the auction market before now.
Triptych Inspired by the Oresteia of Aeschylus is one of 28 large triptych paintings by Bacon, each comprising three oil on canvas panels which measure 198 cm × 147.5 cm.
Bacon was inspired by The Oresteia, a trilogy of ancient Greek tragic plays by Aeschylus, the same inspiration for triptychs like Bacon's Three Studies for Figures at the Base of a Crucifixion (1994). The Oresteia recounts three linked mythic tales of revenge: the murder of King Agamemnon; the murder of Clytemnestra by Orestes to avenge his father; and the pursuit of Orestes by the Furies – the three female deities of vengeance.
Bacon comments on the creation of this intriguing and stimulating mastery: "As for my latest triptych and a few other canvases painted after I re-read Aeschylus, I tried to create images of the sensations that some of the episodes created inside me."
Bacon read and re-read Greek tragedy as inspiration, but no other time has he ever pointed to the play and its author in the title of his paintings.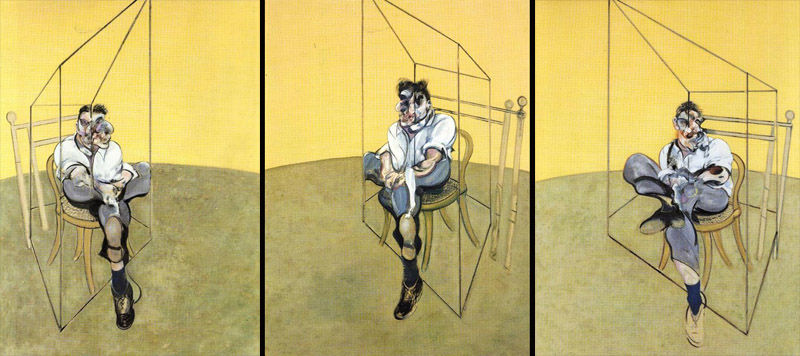 In response to this, Bacon explained to Michel Leiris, a French surrealist writer and ethnographer to explain realism: 'I could not paint Agamemnon, Clytemnestra or Cassandra, as that would have been merely another kind of historical painting… Therefore, I tried to create an image of the effect it produced inside me.' Thus, the real subject of the triptych is Tragedy."
– Francis Bacon Cited In: "Homage to Bacon," Tate Etc. 14, Autumn 2008, Online.
https://seizedsales.com/wp-content/uploads/2021/03/Franci-Bacon-1.jpg
312
684
SS-Admin
https://seizedsales.com/wp-content/uploads/2022/01/Seized-Sales-Logo-New.png
SS-Admin
2021-02-24 14:02:20
2021-03-08 14:33:05
2020's Most Expensive Artwork Sold on Auction